When it comes to the Navy, New England has had a strong bond with the Naval Service. At this country's founding New England had at its base a maritime economy with, established shipping, fisheries and shipbuilding industries.
New England's
shipbuilding industry
has designed and produced some of the world's finest warships. From The 44 gun frigate
USS Constitution
to the modern
Virginia Class nuclear fast attack submarines
, New England shipyards have produced almost every type of warship that has served in the US Navy including submarines, frigates, destroyers, cruisers, battleships and carriers.
The Navy has also had a long established use of the natural harbors along the New England coastline including New London CT, Newport RI, Boston MA and Portsmouth NH.
But the association between the Navy and New England has been in decline since after the Vietnam War and more recently the end of the Cold War. In the current political climate the emotions of tradition and a history of efficiency and success could have little bearing. New England stands to lose more naval installations and shipyard capacity yet again.
General Dynamics Electric Boat (Source: US Navy Photo)
The two things that make me think that this region is going to take a significant hit again. One is almost certain, that being the Navy's reduction in the procurement of
DDX Class Destroyers
and Virginia Class Nuclear Attack Submarines. Fewer
DDX Destroyers affects the Bath Iron Works
and
fewer Virginia Class SSNs
affects the Electric Boat shipyard. With little or no commercial work both shipyards will have to reduce their workforce. This typically would impact the least skilled and least productive workers first. But there is a point where the retention of higher skilled and therefore higher paid workforce affects the cost of production and must be reduced to maintain a profit for the shipyard. At that second workforce reduction point is where capacity and shipbuilding talent is lost, possibly never to return.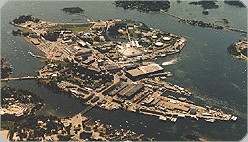 Portsmouth Naval Shipyard (Source: US Navy Photo)
The second risk is the forthcoming
BRAC commission
recommendations for Naval Base closure and realignment. Two facilities are up for consideration, the
Portsmouth Naval Shipyard
and
New London Submarine Base
. Both installations are some of the oldest in the Navy. Portsmouth Naval Shipyard is the oldest naval shipyard operated by the Navy and New London submarine base is America's oldest sub base.
Departing Submarine New London Sub base (Source:
Navy website
)
The BRAC process is to look primarily at the military value of the installations in question with secondary consideration to the economic and environmental impact to surrounding communities. So will the BRAC process be entirely non-political, not likely. The BRAC commission itself is a political animal,
appointed by the president
and consisting of retired flag officers and former politicians. The following is the lists of appointees:
Anthony J. Principi, former secretary of veterans affairs, from CA, chairman.
Former Rep. James H. Bilbray of NV.
Former Assistant Defense Secretary Philip Coyle of CA.
Retired Adm. Harold W. Gehman Jr. of VA.
Retired Air Force Brig. Gen. Sue Ellen Turner of TX.
Former Rep. James V. Hansen of UT.
Retired Army Gen. James T. Hill of FL.
Samuel Knox Skinner of IL, former chief of staff under President George H.W. Bush.
Retired Air Force Gen. Lloyd Warren Newton of CT.
These commission appointees bring to the table their own set of regional and service specific biases. Just as I have my bias toward for eastern Connecticut and southern Rhode Island, so too would a retired admiral from Virginia or Representative from California have his bias favoring eastern Virginia's tidewater area or San Diego respectively. It is hard not to be influenced in some way by your previous experiences. This would be especially true when what is at stake in a base realignment will result in the loss for one community and gain for another.
The next key point in the BRAC process timeline is just one month away on May16, 05. At that time the Secretary of Defense Donald Rumsfeld will make
his recommendations
to the BRAC Commission and the congressional defense committees for base closures and realignment. One of Rumsfeld's focus as Secretary of Defense has been force transformation inter-service utilization of assets, look for this to be a key aspect in his recommendations.
Other key points in the BRAC process timeline are as follows.
July 1, 05 - Comptroller General's analysis report of Secretary of Defense Recommendations.
Sept 8, 05 – BRAC Commission's Recommendations to the President.
Sept 23, 05 – President's Approval or Disapproval of Commission recommendations.
If the President approves the recommendations then the Congress has 45 legislative days to act in on that approval.
Oct 20, 05 – Commissions Revised Recommendations
Nov 7, 05 – President's Approval or Disapproval of Commission revised recommendations.
Apr 15, 06 – Commission terminates.
With a reduced fleet size and what
submarine refit and repair
work that exists being sent to keep the construction yards operating I see Portsmouth Naval Shipyard at greater risk than the New London Submarine Base. But, this is not the first time New London was on the hit list. In 1993 the DOD recommended the Submarine Base for realignment but the BRAC commission choose to keep the base open.
The military's presents in
New England is declining
and may continue to do so. This may be cost effective in the short term but in the long term I feel it will reduce America's capacity to defend itself and a key region of the country.
Update 04/18 - 2100:
Bothehook makes and excellent point
on how commuity support or lack there of can influence the military's decision process. Additionaly,
The Sub Report
links to two articles from the New England press
here
and
here
about the possible closure of the PNS.